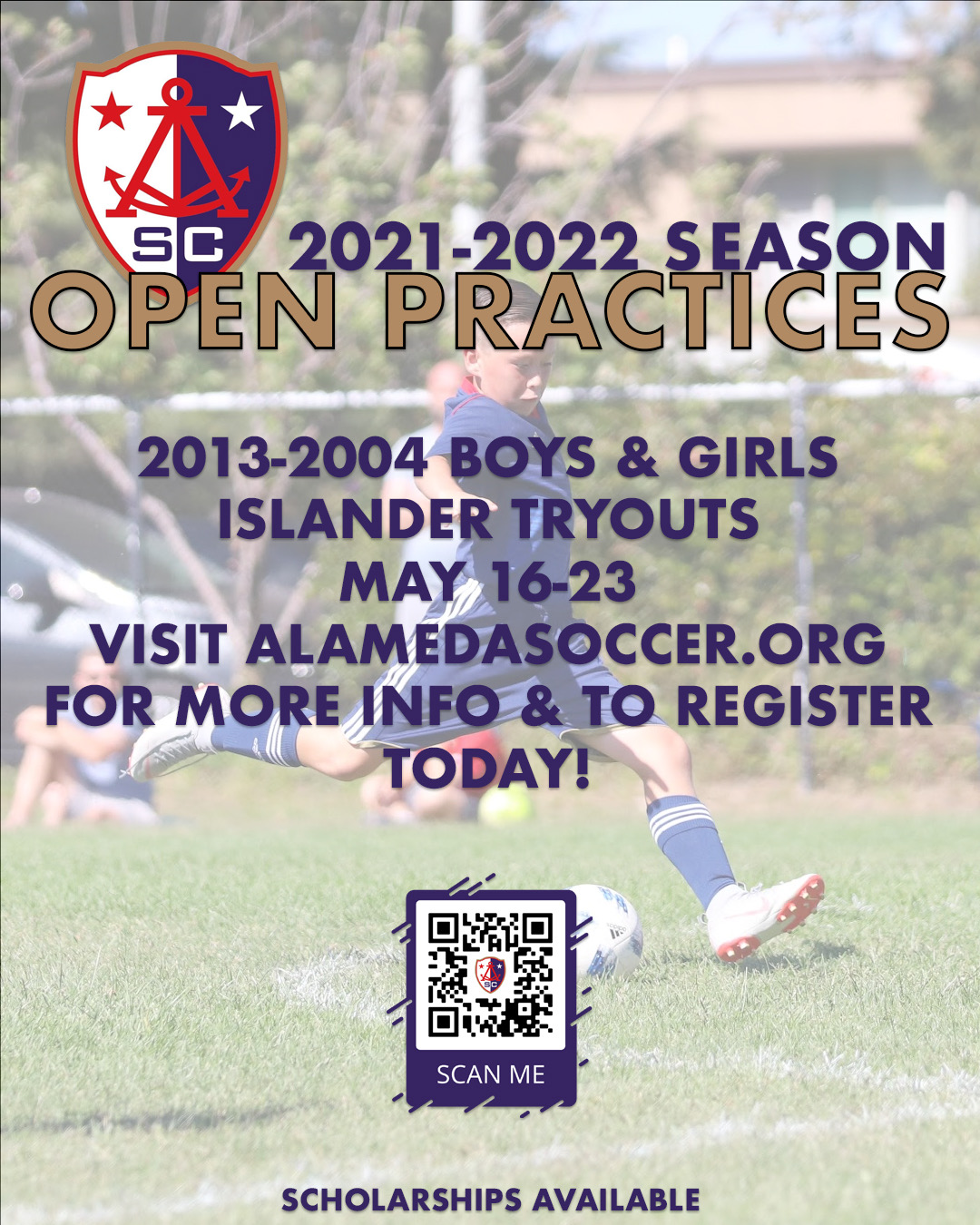 2021-2022 ASC Competitive Tryouts
ASC Islanders Competitive Tryouts will be held for all players and age groups
(2004-2013 birth years) May 16 - May 23.
These tryouts will be to form teams for the Fall 2021/Spring 2022 seasons and will be run by Adam Butler (DOC), Professional Trainers, Competitive Team Coordinators, and ASC Coaches/Staff.
*Please arrive 15 minutes prior to tryout to check in
Players must register for Tryouts on Team Snap
Make sure to print and complete the Medical Release Waiver form when registering and bring with you to tryouts.
We will be following Covid Protocols during check in and players will be required to wear masks at all times. Players should attend both days and wear cleats and shin guards and bring a soccer ball, water bottle and mask. Players should not wear their team uniforms, or any t-shirt that relates to a specific group, organization, or local team. 
Make-ups and possible follow-up tryout days will be scheduled the week of May 24-28 as needed. Please still register on Team Snap and email Competitive Coordinator below to schedule a make-up if you are not able to attend the dates below.
Links to more info
Please Competitive Teams Coordinators at compcoordinator@alamedasoccer.org if you have any questions.
Go Islanders!
Gender/Birth Year
Dates/Times/Location
Girls 2013
Monday, May 17 4:00 pm - Hornet Field

Friday, May 21 4:00 pm - Hornet Field

Girls 2012
Tuesday, May 18 4:00 pm - Hornet Field

Thursday, May 20 4:00 pm - Hornet Field

Girls 2011
Monday, May 17 5:45 pm - Atlantic Field

Wednesday, May 19 6:00 pm - Estuary Park

Girls 2010
Monday, May 17 5:30 pm - Hornet Field

Wednesday, May 19 5:30 pm - Hornet Field

Girls 2009
Monday, May 17 7:15 pm - Hornet Field

Wednesday, May 19 7:15 pm - Estuary Park

Girls 2008
Monday, May 17 7:15 pm - Estuary Park

Wednesday, May 19 7:15 pm - Hornet Field

Girls 2007
Sunday, May 16 10:15 am - Hornet Field

Sunday, May 23 9:00 am - Hornet Field

Girls 2006
Sunday, May 16 10:15 am - Hornet Field

Sunday, May 23 9:00 am - Hornet Field

Girls 2005
Sunday, May 16 11:45 am - Hornet Field

Sunday, May 23 9:00 am - Hornet Field

Girls 2004
Sunday, May 16 11:45 am - Hornet Field

Sunday, May 23 9:00 am - Hornet Field
Gender/Birth Year
Dates/Times/Location
Boys 2013
Wednesday, May 19 4:00 pm - Hornet Field

Friday, May 21 4:00 pm - Hornet Field

Boys 2012
Monday, May 17 4:00 pm - Hornet Field

Wednesday, May 19 4:00 pm - Hornet Field

Boys 2011
Tuesday, May 18 4:00 pm - Hornet Field

Thursday, May 20 4:00 pm - Hornet Field

Boys 2010 \
Monday, May 17 5:30 pm - Hornet Field

Wednesday, May 19 5:30 pm - Hornet Field

Boys 2009
Tuesday, May 18 5:30 pm - Hornet Field

Thursday, May 20 5:30 pm - Hornet Field

Boys 2008
Tuesday, May 18 7:15 pm - Estuary Park

Thursday, May 20 7:15 pm - Estuary Park

Boys 2007
Tuesday, May 18 5:30 pm - Hornet Field

Thursday, May 20 7:15 pm - Estuary Park

Boys 2006
Sunday, May 16 8:45 am - Hornet Field

Sunday, May 23 3:00 pm - Hornet Field

Boys 2005
Sunday, May 16 8:45 am - Hornet Field

Sunday, May 23 3:00 pm - Hornet Field

Boys 2004
Sunday, May 16 8:45 am - Hornet Field

Sunday, May 23 3:00 pm - Hornet Field