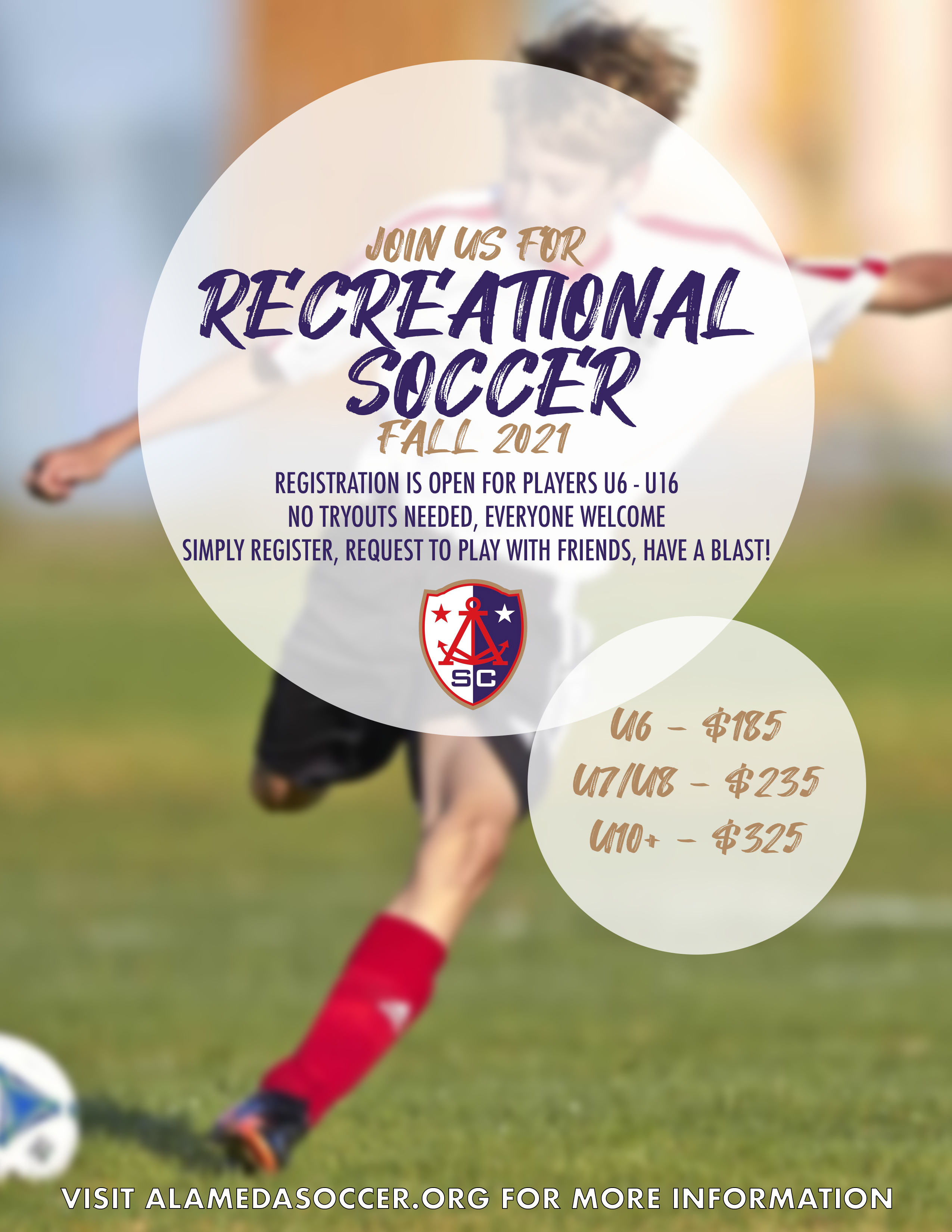 Fall
Fall 2021 Recreational
Fall registration is OPEN! The season will begin in early September with games and continue for 8-10 weekends with coach-led practices generally beginning in late-August. Registration closed on August 1, 2021.
Registration Fees:
U6 - $185
U7/8 - $235
U10+ - $325
The practice and game schedules are set once registration is closed and teams have been formed. A coach will be in contact with each family once their roster has been finalized.
We will continue with our COVID safety protocols as the State and County advise. We will make changes to this policy only if advised by the State or County.
Additional Costs: All players will need indoor or outdoor cleats (no metal spikes), shin guards, socks worn over the shin guards, a ball, and water bottle to be brought to all practices and games. There will be no sharing of any player's equipment at this time, including water bottles.
Ball Sizes U6 - U8 = Size 3 U10 - U12 = Size 4 U14+ = Size 5
Uniforms are included with registration for U6-U8 players and will be an International soccer jersey chosen by the coach. U10-U16 players will have to purchase two ASC jerseys (red and white) at the SoccerPost at South Shore Shopping Center - one for home and the other for away games. Coaches will coordinate jersey number selection.
NOTE: If you have not previously used Sports Connect you will have to register as a new user. Once you register your child, the website will automatically send you to the appropriate age group to complete registration.
Once teams are formed and the league sets schedules, coaches will provide families with further information.
Club Platform Parent Registration FAQs
For questions related to the Recreational Soccer program contact our Recreational Team Coordinator.
For registration questions or to request financial assistance contact our Registrar.
If you are unsure about the correct age group, refer to the Age Chart.